Diamond Self Storage Management, LLC is focused on managing your property effectively to bring you a property that will produce a solid, steadily growing income for years to come. Using our 37 years of combined experience, we will comb thru your operation to discover missed opportunities for income, and minimize overhead cost, all while developing store managers into hard working, smart, dedicated team members.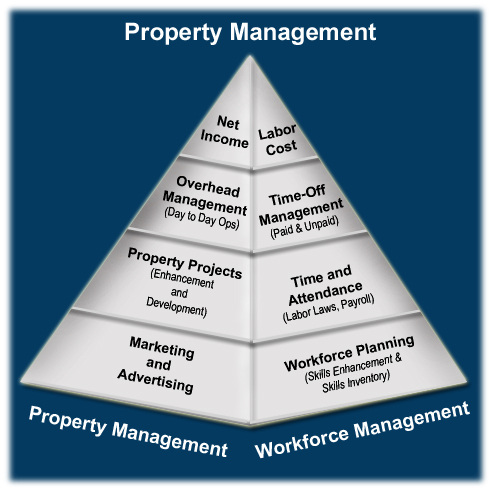 Our breakdown in management is outlined in this pyramid and we will use all tools available to make sure your property's occupancy rates go up, while the cost of ownership goes down.

Our approach to Property Management is divided into two main areas of focus, Workforce Management and Property Management.


Workforce Management
Skills Enhancement
Skills enhancement is the training, development, and sustainment of the property managers. Their skills and abilities, and they're willingness to effectively utilize those skills ensure your property is safe, secure, and efficiently producing revenue. Our training staff is dedicated and bound to ensure all employees are trained and we implement many exams, tests, and hands-on training to help make our employees successful. Training structure and progression monitoring come from over 28 years of active duty military experience.


Skills Inventory
Skills inventory is the ability to catalog our employee's skills to best use them in positions that are a benefit to Diamond Self Storage Management, LLC and your property. Think of this like using chess peices in a game. The right moves will prove to be winning decisions.


Time and Attendence
This involves the introduction to, knowledge of, and compliance with various state and federal labor laws. This revolves around time-off, and required attendence by employees to make sure they know what their roles and responsibilities are to stay gainfully employed by Diamond Self Storage Management, LLC.

Labor cost
Labor cost is the property's financial obligation to employees. Employees are made known of their rights and responsibilities as well as Diamond Self Storage Management, LLC's roles and responsibilities. We make sure both the property and employees are protected from loss wages, class-action lawsuits, or civil infractions that might make the property responsible.

Property Management
Marketing and Advertising
The goal that is assigned to every property that Diamond manages is to raise occupancy. This starts with marketing and advertising. Effective communication to large audiences and mass appeal will bring money thru the door. Our reach extends into the virtual realm where online marketing is a huge source of revenue for us. With our ability to accept online payments, we drive customers to our website and while they're there, they are informed about company news, policies, or sales that might affect them. The feeling of personal communication is a factor that keeps our property customer base growing.

Property Projects
The use of technology to control, maintain, optimize, and oversee property enhancements, repairs, upgrades, or overall status of physical property health by our senior management and maintenance personnel. We know whats going on with properties because we provide our employees with the ability to report and track progress on problem areas of facilities. These address both safety and operational concerns.

Overhead Management
The responsibility the Diamond Self Storage Management, LLC accepts to minimize overhead cost of each and ever storage facility is why we're considered ahead of our game. We are able to increase revenue and decrease cost because of our ability to seek out and mitigate problem areas of facilities.

Net Revenue Maximizing profits based on all areas of operations. Running a storage facility is not easy, but our senior leadership, middle management, and increasingly used technology outlets prove that we are doing our jobs right and you will see more revenue and less cost of doing business.


Where to go from here?
If you are interested in consulting Diamond Self Storage Management, LLC about property management, please use the Contact Us menu to determine your best method of contacting us. You'll talk to our management team and decide if property management by Diamond Self Storage Management, LLC is in your best interest.